To further develop our science curriculum and to celebrate British Science Week, the pupils at Moor Row Primary School recently held a science themed week. Each class focused their learning around the theme of growth with activities ranging from planting seeds, stretching curlywurlies and following the journey from a farm to a pizza! We also had visits from parents with careers in science, and a robotic digger which buried a time capsule. At the end of the week we invited parents into school to celebrate with us.
The purpose of the week was to inspire young people to take up studies and careers in the disciplines of science, technology, engineering and mathematics. It also provided an opportunity to focus upon gaps identified due to Covid and the implications of home learning. The profile of science was also raised. The children planned and carried out investigations which allowed teachers to address gaps in learning and address any misconceptions.
The impact of this was that the children were aware of what is possible through science and opportunities that this can present to them whilst also celebrating the diverse people and exciting careers in our community. They were inspired to think, dream and behave like scientists and engineers, helping them become independent and reflective learners.
"I loved it when the skittles all mixed up and made a pattern."
"It was like magic when the you picked up the bottle with the rice and the pencil."
---
Year 1 & 2 making pizzas from ingredients sourced from Cumbrian Farms.
Nursery and Reception children learning all about magnetism, forces, growing and dissolving.
Year 3 & 4 carrying out a science experiment.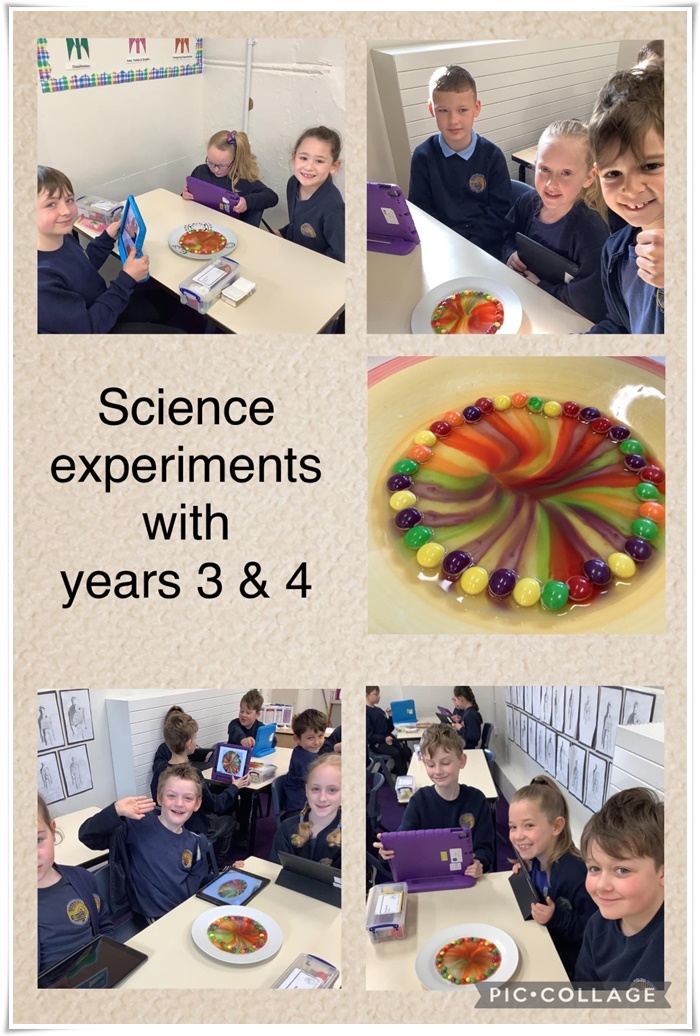 Forth Engineering came to school and demonstrated their remote control digger which is used to go to places that people cannot safely access. They kindly used it to dig a hole on our field for us to bury a time capsule which contained photos and drawings and important information relating to our present day. We wonder what people in the future will think of our testing kits and facemasks?
Year 5 & 6 are demonstrating the science behind inserting a pencil into a bottle filled with rice and then being able to lift the bottle by holding the pencil. It looks like it could be magic, but in fact it is all clever science.